If you are a skater or a fan of urban culture, you absolutely cannot miss one of the most famous spots in the world. The MACBA, also called "La Mecca", is located in Plaça dels Àngels, nestled in the heart of the Raval, one of Barcelona's oldest neighborhoods
How was "La Mecca" born?
In 1992, the city's then mayor, Pasqual Maragall, commissioned architect Richard Meier to design a building in Plaza del Angel, with the aim of transforming the area in anticipation of the Olympics.
Meier decided to design a museum, and so it was that, in 1995, a plaza that had been completely converted to house MACBA was inaugurated, lending a new and contemporary air to an area of the city that had remained in the shadows until then. However, it would take several years before it was noticed by riders.
Skateboarders Achaf and Paolo can be considered among the first to have discovered the plaza and its perfect pavement, ledges and stairs, which would soon make it a paradise for skateboarders.
And it was Enrique Lorenzo, a pro skater from Barcelona who made his name in the 1990s, who took inspiration from Achaf and Paolo's videos. Enrique, along with six or seven other skaters, formed a small community that began exploring all the skating opportunities offered by this wonderful plaza.
"The first time we went to Macba was purely by chance, because normally we skated in Sants in the morning, and at night we were always in Plaza Universitat instead," says Enrique in a telephone interview about his time at Macba.
"Because the ledge was too low, but then we started seeing videos of the "homies" Achaf and Paolo and we changed our minds."
This is when Macba began to be noticed.
No one could have imagined at the time that MACBA would become not only a riders' paradise, but also a place for the so-called "botellones" and people to watch and hang out.
"In those days there were only a few of us who skated there and the situation in the neighborhood was dangerous," Enrique continues, "tourists would be attacked by five people at a time and then completely robbed. They would throw them to the ground and beat them up. No joke, it was really like that. But they weren't doing anything to us, they had gotten to know us and we had learned to get along with them."
The skater continues, "I really saw everything during that time from snatched bags to violent cell-phone robberies, at 2 am, and even at 10 am. All this was happening while we were skating and the square was practically deserted, there was not a soul."
Thankfully, this kind of activity has decreased and that kind of violence is much less frequent today. You still have to be careful in the Raval, but there is more attention and the skate community is always vigilant.
In the early 2000s, Filmmaker Antony Claraval began traveling here and bringing American professional skaters to film in Barcelona.
This is the moment when MACBA really became famous.
The 411vm videos were seen by skaters all over the world. Eventually, they became something a skaters' daily news for Barcelona.
MACBA featured the perfect granite pavement, long flawless ledges, spaces of different heights, stairs of different sizes, and the legendary 4 blocks in the back (which were later turned into 3).
Touring MACBA today, it's obvious that skateboarding culture has played a big role in the transformation of MACBA and the surrounding areas, including Raval, both of which have become significantly safer for tourists and skaters alike.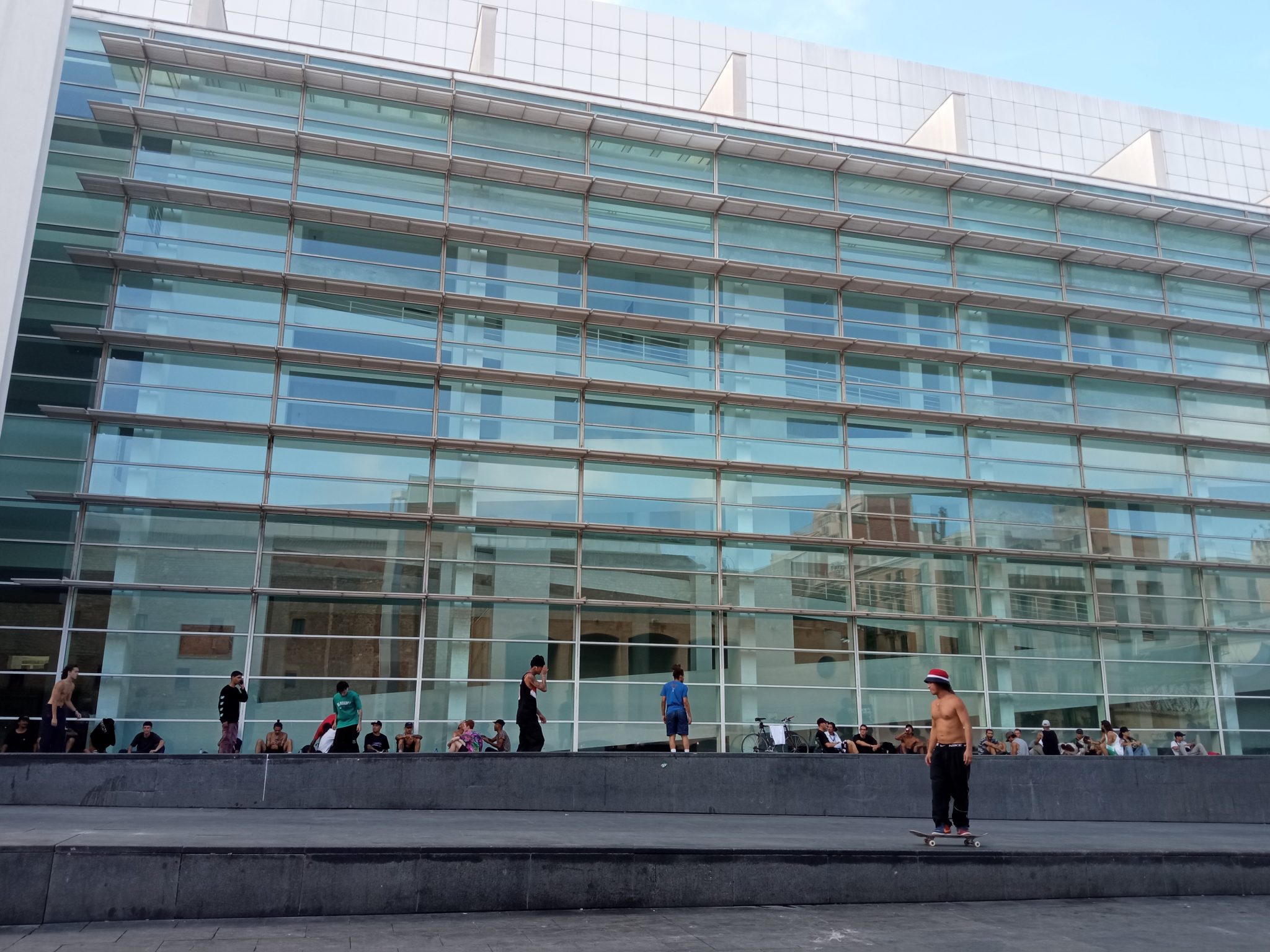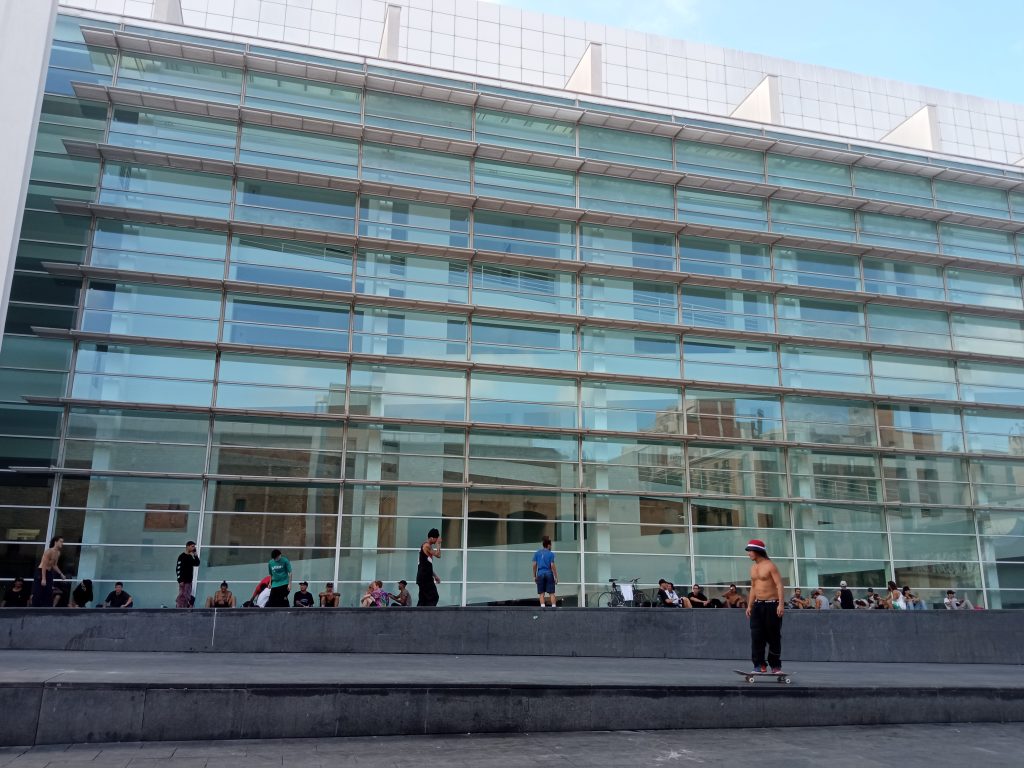 Why MACBA of all places?
MACBA attracts skateboarders from all over the world because of its ideal combination of smoothe granite floors, ledges and stairs of different sizes. The general vibe is also enthralling.
MACBA is a meeting point for both local and foreign riders, a plaza where you can even just hang out and observe or sit quietly in a corner drinking a few beers from the many bodegas on Calle Joaquin Costa, or the famous Kino bar, located right next to the museum's entrance. Even a non-skater can be completely enraptured by MACBA's unique energy.

If you get hungry and find yourself looking for good, cheap eats, then the nearby Bishmila Kebab shop on Joaquin Costa is a must try. This tasty kebab shop is the very embodiment of Spain's "bueno, bonito, barato" streetfood ethos!
In fact, the entire area features many locales and cheap bars where you can breathe in the culture that permeates the streets of the surrounding neighborhood.
When can you skate?
Every day from 7 am, Plaza dels Àngels opens the curtain to its daily concert, set off by the sound of boards touching the ground after a flight from the curb with the Catalan inscription "Musei D'Art Contemporani De Barcelona," the laughter and general shouts that start when tricks are landed. After dark, the music stops promptly at 10 pm, a soft curfew imposed by the municipality due to neighborhood complaints.
Currently, neighbors in the area are filing many complaints, which is precisely why there is a law prohibiting skating from 10 pm until 7 am, with penalties given to non-compliant skaters. There is also currently a proposal to turn the square into green space for children and designating certain spaces for skating.
In order to preserve La Mecca and allow skateboarders to continue this square's tradition as one of the world's most famous skate spots, it is critical for skaters in the MACBA area to respect the rules! Fortunately, this is Barcelona, and you can always find something to do when the curfew goes into effect and the police start sending everyone away.
The places most frequented by skaters at night are the Kino Bar, or the popular Betty Fords.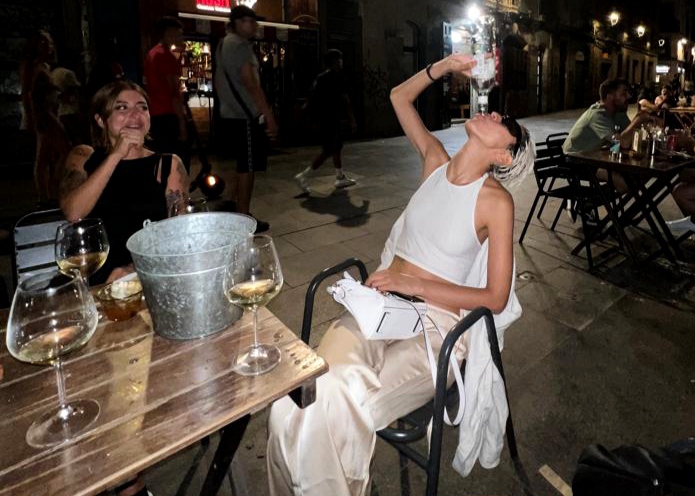 Not far away in "dos calles" you can go for a beer at Nevermind, a legendary bar on Carrer Escudellers which features its own small skate park in the back. The skateboards hanging on the walls, rock music and dim lights make it really worth a visit.
During the day, Rufus, Macba's legendary skate store is also worth a visit.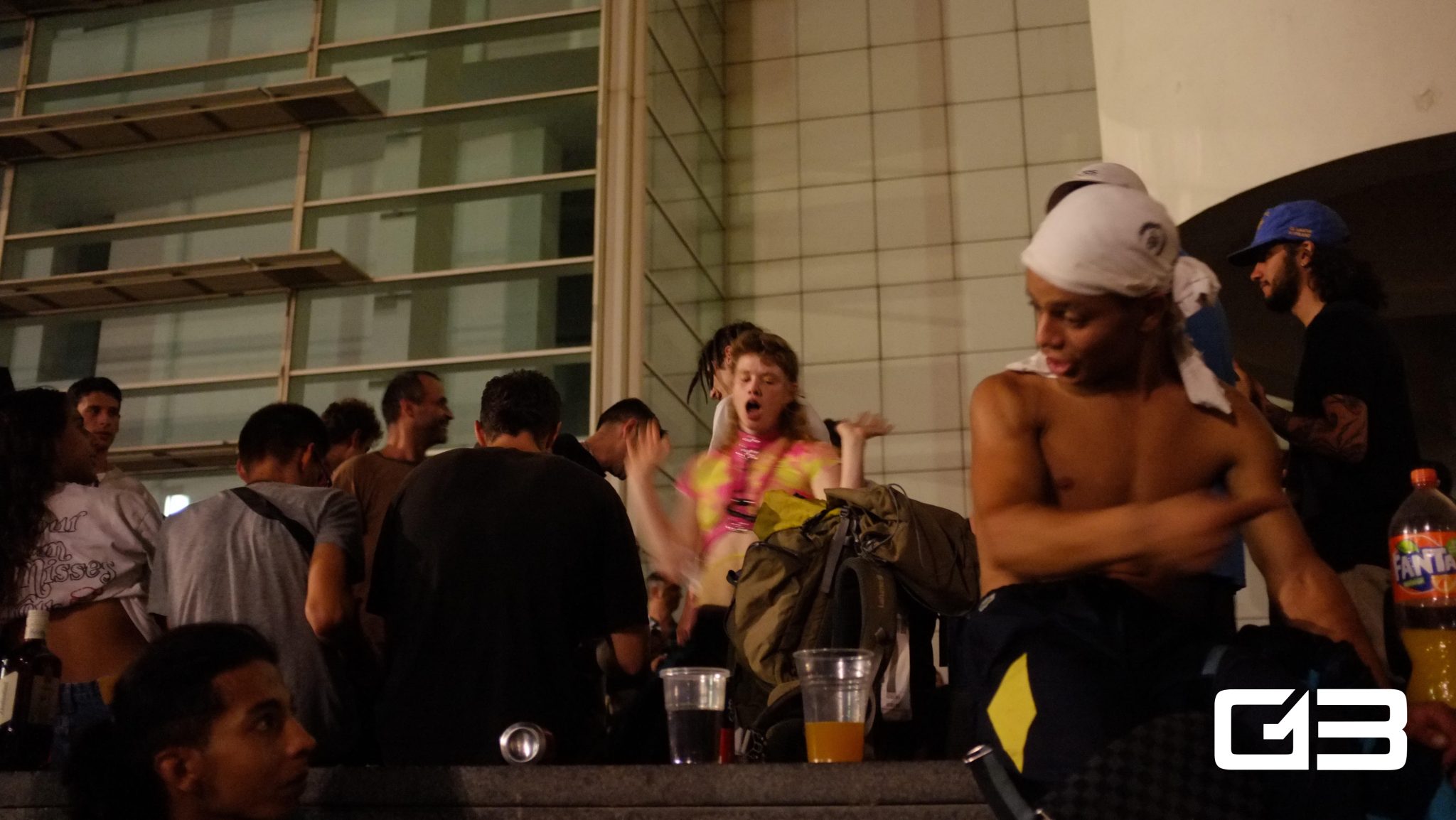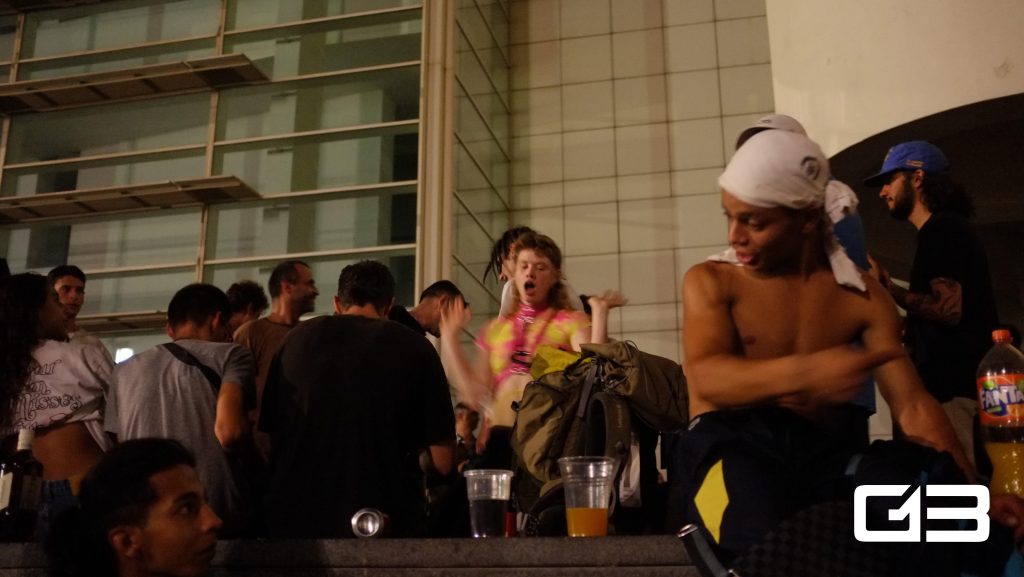 Macba en Instagram
@macbalife is the Instagram page to follow to watch all the tricks of the skaters who frequent the plaza.
MACBA is great for skating, it has it all! That's precisely why, if you want to keep this iconic space alive, it's important to respect the rules to prevent skateboarding from being banned altogether.
G13 Club is a private circle of cannabis users based in Barcelona and a multidisciplinary platform that develops and produces different activities mainly related to urban culture, music and art.