Plaza Universitat is one of the most popular spots for skateboarders in Barcelona along with Macba, Paral-lel, Marbella, Fondo and Sants.
The square got its name from its location directly across the street from Barcelona's university. However, its convenient location at the triple intersection of Ronda de la Universidad, Ronda de San Antonio, and Gran via de las Cortes Catalanas has helped make Plaza Universitat famous for being one of Barcelona's most popular skateboarding destinations.
This skateboarding hub literally sits above the Metro station of the same name, and if you take Barcelona's purple or red line, a short ride up the escalator puts you right in the middle of the action. The plaza is also accessible from multiple bus lines such as the 52, 54, 63, 67, H12 and V15.
"Before Macba turned into the Mecca for riders, the places most frequented by skaters were Uni and in Sants," Enrique Lorenzo, a well-known Catalan skater, tells us.
"At the time, Uni was more of a transit place or a place we would choose just for a change. We usually went there in the evening because it had perfect lighting. We would skate until 11 o'clock, the time when the subway closed. This was a period when we filmed a lot of tricks."
It was during this period that the plaza began to make a name for itself as one of Barcelona's leading skate spots.
Videos shot by skateboarders at the time began to make local and foreign riders' mouths water, and the Plaza quickly pushed itself into the ranks of the city's top skate spots.
Due to the ease with which Plaza Universitat can be reached and its great surface, this is a perfect place to hone your craft away from the Macba crowd.
"The P" as it is affectionately known, is where many of Barcelona's most serious skateboarders prefer to practice their tricks. Here, they can work in relative peace and quiet, away from the eyes of the many spectators at Plaça dels Àngels.
So if you are looking for a wonderful but quieter spot, this plaza is perfect.
Although there are fewer skaters, you must remain mindful of the fact that the square is surrounded by a very busy section of the city. It is frequented by both cars and pedestrians who use the plaza to access the subway station right beneath or are passing through to Plaza Catalunya.
So, part of the challenge of skating at Plaza Universitat is to be careful not to cause any accidents, such as getting run over or using a pedestrian as a ramp!
As in any square in the world, there are curbs here too. Of course, passers-by are completely unaware that these benches are perfect for any trick! So normally people sit around chatting, having an ice cream, hanging out, and for you who are a skater, that means you have to wait. In fact, very often the plaza is not completely available.
This scattered availability, or makeshift use of the available benches is of course, all part of the charm.
Our advice is to go early in the morning or in the middle of the day, when the sun is strong and people are not lingering because there is no shade. On most nights, the square is filled with skaters taking advantage of the cool air.
There is a nice breeze in the Plaza on summer nights, which makes the Plaza a popular alternative for skaters who have been sent away from Macba by the police. With that said, the Plaza rarely if ever seems overcrowded.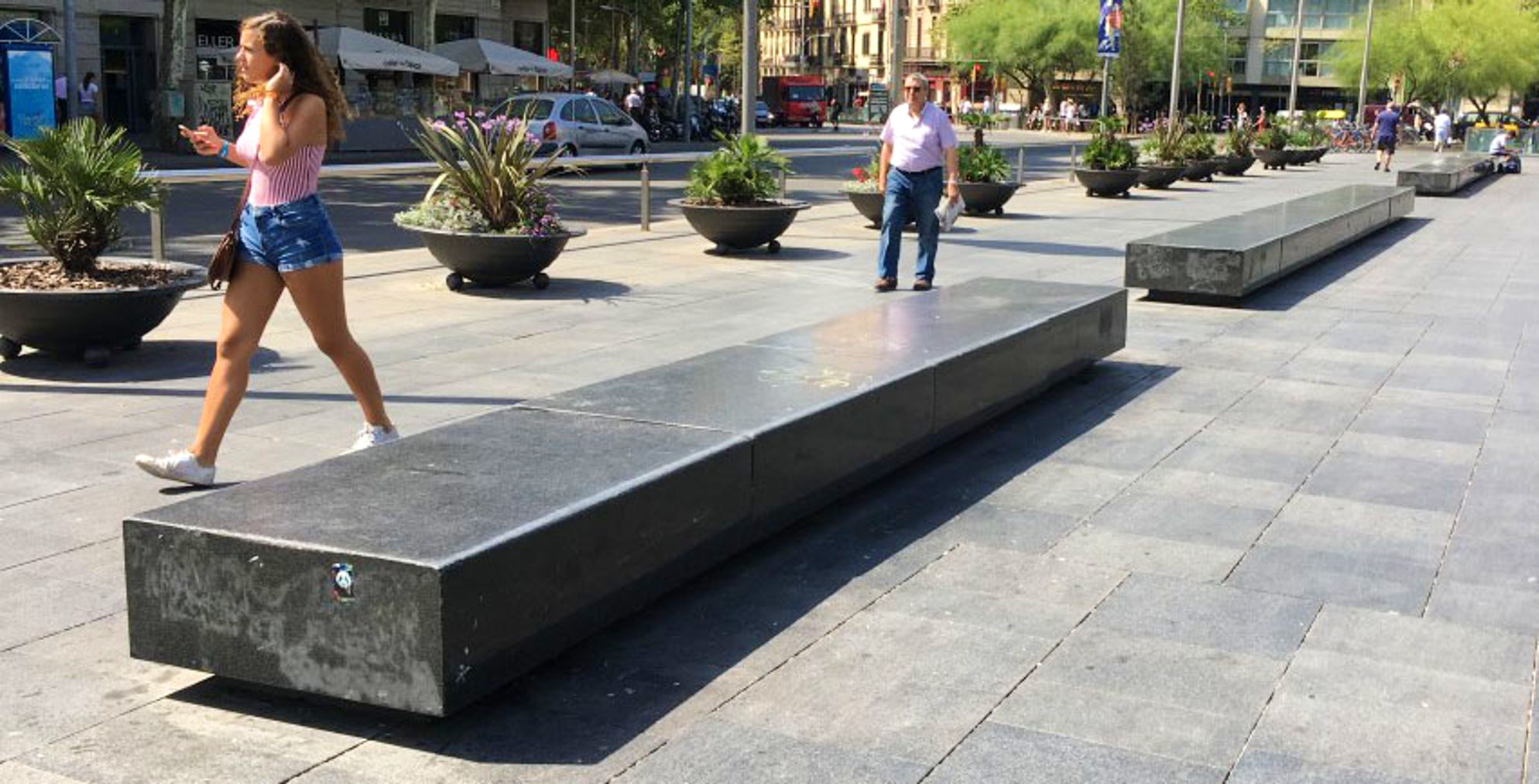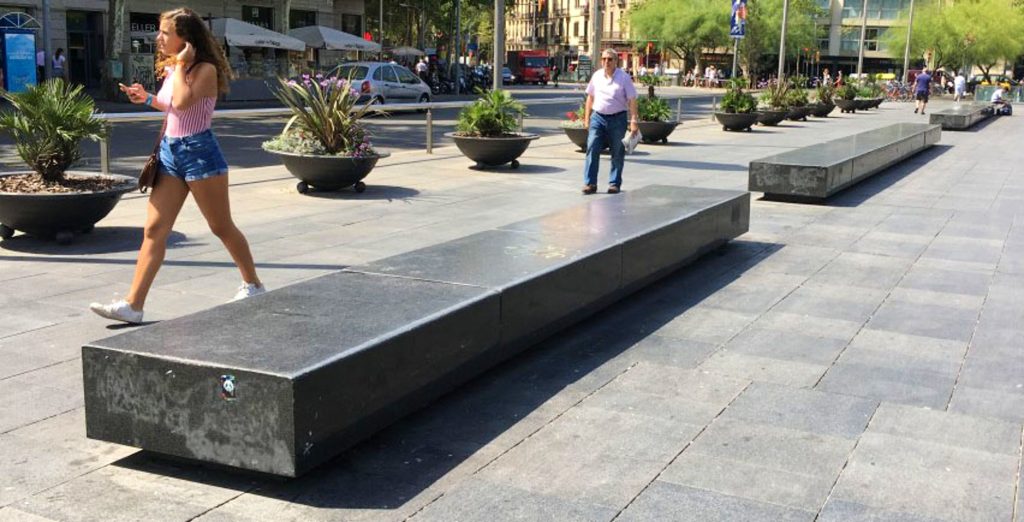 Why Plaza Universitat
Aside from the convenient location, the surface of the Plaza is ideal for skaters. It is perfectly smooth, carved from granite.The long and medium-sized blocks are suitable for intermediate level skaters because they are taller than normal. Here you can skate with or without an exit, a feature that gives a lot of play.
There is a fence at the subway entrance that can be jumped over by taking advantage of the ramp leading up to it, but it is very high, so only the most skilled skaters should try this. The plaza is also very wide, and in the center there is a large metal recess, which people use as a street gap.
But the jewel in Uni's crown is a mythical jump: the one from sidewalk to sidewalk, which is very long. Through the years, this jump has been attempted by both professional and recreational skaters, but only the most skilled have conquered it and executed tricks while doing so.
However, if you think you have the skills to do it, the Plaza is open to all comers. Even if you don't, it won't take you long to understand why this is one of Barcelona's most popular skate spots.
G13 Club is a private social club for medical and recreational cannabis users based in Barcelona. It is also a space for musical and artistic development that promotes a multitude of activities focused on the expression and exhibition of urban, hip hop, reggae and skate culture.